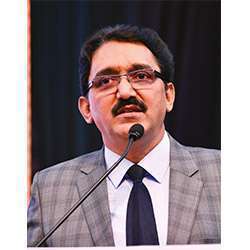 Prof. Dr. Sanjay B. Chordiya
Founder President and Chairman
Founder President and Chairman of Suryadatta Education Foundation, is a senior management professional, a passionate educationist and a philanthropist. Along with a degree in Mechanical Engineering from the Government College of Engineering Pune, (COEP) Dr. Chordiya also completed his Masters in Marketing Management, Materials Management, Industrial Management, Operations Management, Human Resources Management and a Doctorate in Environmental Science.
Prof. Dr. Sanjay B. Chordiya has served the industry in various capacities. He was the Chairman of the SME Chamber of Commerce, Pune Chapter and as a member of Telephone Advisory Committee, Pune and also of the prestigious committee formed by the Ministry of Steel & Industries, GOI for raw material planning in the Automobile industry. He is also a promoter member of EPSI, Delhi.
He is a Fellow of the All India Management Association (AIMA), Institution of Engineers and the Indian Institution of Production Engineers. He is a Chartered Engineer and Educationist .He has visited many globally renowned universities for International Visitor Leadership Program across US and Exploring Best Practices in Higher Education such as University of Paris 1, Harvard, MIT, Boston, Stanford, California State, The George Washington, Maryland University Israel, Mascow etc.
He has been honored with numerous awards for his invaluable contribution to Excellence in Education, Spiritual, Social and World Peace activities. He has also been honored with the "Times Men of the Year" Pune 2018. He has recently been awarded the Fellow Membership of Centre for Education Growth & Research at the hands of AICTE Member Secretary.