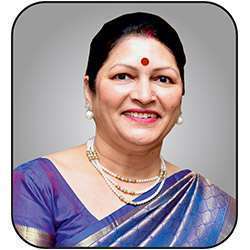 Mrs. Sushama Chordiya
Vice President & Secretary
Mrs. Sushama Chordiya, Vice President & Secretary of the Suryadatta Education Foundation, has a vision of building a world class centre of excellence of learning at Surydatta.
An Arts Graduate with Computers Diploma, she heads the administration & finance departments, heads the cultural activities cell and is the chief mentor at Suryadatta. She works closely with the head of departments in guiding the students. Her passion and dedication makes her the most popular mentor amongst the students, especially the outstation students.
She is a member of various social as well as charitable organisations including YWCA Activity centre, International Centre Goa etc. She has organised various edu-socio events and activities at Suryadatta such as Computer literacy programs, Cleanliness rallies, Polio eradication camps, aids awareness rally, health camps, English literacy programs etc.